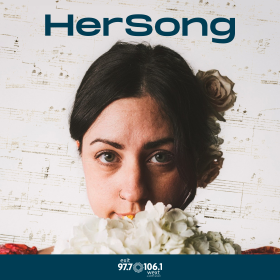 HerSong: Lifting Women's Voices of the Local 518
A podcast featuring women artists of the Local 518. A brief profile and a song.
Erin Harkes takes the stage with music and comedy.

Zan Strumfeld's eclectic "winter folk" sound.

Sydney Worthley explores music through intimate storytelling.

Episode 28 of HerSong podcast with multi-instrumentalist and singer-songwriter Julia Alsarraf.

Arielle O'Keefe, the 7 Time "Eddies" winner. Episode 27.

Sara Milonovich, 2022's Americana Artist of the Year.

Belle-Skinner, bridging European folk tunes to contemporary pop hits.

Episode 24 of HerSong, featuring Melanie Krahmer of SIRSY.

Lori Friday's groovy bass lines power Super 400!

Caffe Lena's Carolyn Shapiro brings a taste of appalachia to the 518!